BOQA® fastening elements offer many more advantages for users, such as our broad product range:
BOQA® fastening elements ...
are organised in many different product groups. Every product group covers a specific range of shaft diameters, so that hubs (e.g., belt pulleys, gears, sprockets, etc.) can be connected to different shaft diameters by using a standard inner hub bore corresponding to diameter "D2" of the BOQA® fastening elements within the product group. Simply select the corresponding BOQA® fastening element for the required shaft diameter from the product group.

are also available for different hub widths. No limits are imposed on users when it comes to their choice of belt pulley width to ensure
the optimal design of their planned drive.

are also available from bodaTec® GmbH and our distribution partners as ready-to-use assemblies, comprising the BOQA® fastening
element, fastening nut and the appropriate hub for the use case specified by the customer.

The toothbelt-timing pulleys within the product groups are normally standard toothed pulley-versions adapted to BOQA® fastening elements or customised versions tailored to user requirements.
Customised toothbelt-timing pulleys are primarily custmer-specified versions of toothbelt-pulleys, gears, sprockets, or other hubs intended to be connected to a shaft via a BOQA® fastening element.

Fig.: 3 Customer-specified belt pulley, sectional view on the right. The design consists of an BOQA® fastening element and a fastening nut.


The assembly also includes an integrated disconnection system developed by bodaTec® GmbH for easy removal of the BOQA® fastening element retention where disassembly of the toothbelt-pulley is necessary.
Disconnection of the fastening nut automatically also removes the clamping sleeve retention and the toothbelt-pulley module can be easily removed manually from the shaft. This procedure ensures that neither shaft nor other components are damaged mechanically. The hex socket integrated in the fastening element thread provides additional stability when fastening the nut. The hex socket is represented in the item numbers of BOQA® fastening elements with the suffix "ISK".
BOQA® fastening elements are available in many different versions. They are continuously adapted to the requirements of our customers
with regards to reliability, longevity, versatility and easy handling. They provide an economic and safe solution for the challenges of drive
technology as demonstrated in the following examples.
BOQA® fastening elements are available for instance...
as a compact assembly without interfering protrusions. The assembly comprises a BOQA® fastening element, special nut and integrated
disconnection system that enables removal of taper retention and easy disassembly for drive assembly maintenance.

This version is ideal for the realisation of belt redirections in very tight spaces.

This highlights another important advantage of BOQA® fastening elements: the favourable ratio between outer diameter D2 and inner diameter d1 allows you to fasten toothbelt-pulleys with a low number of teeth (i.e., a relatively small tip diameter) on relatively thick shafts.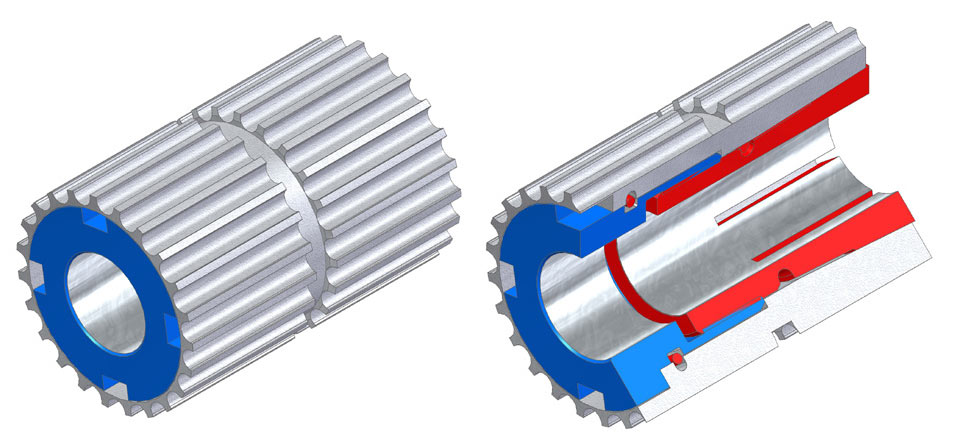 as a customised version with an integrated taper bearing to reduce bending load for thin shafts, spindles, etc., when tensioning the toothed belt, and to prevent breakage at the journal due to material fatigue, especially during regular operation.

Counter bearings can be realised inside the housing of the drive enclosure as needle bearings, grooved ball bearings or plastic / bronze bushings.
When the housing is opened the counter bearing neutralises the forces affecting the belt pulley when tensioning of the toothed belt to increase the drive's service life substantially and to counteract machine failure.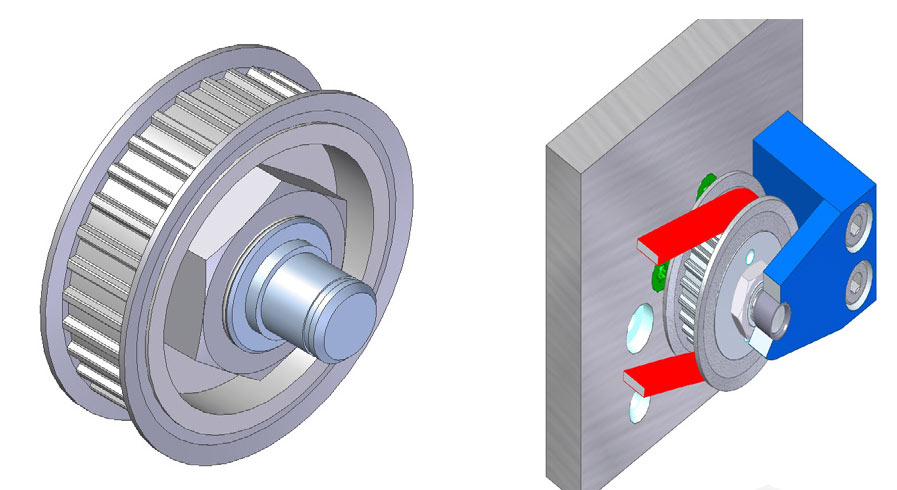 as versions for continuous shafts, i.e., hubs can be positioned flexibly along the shaft due to a continuous bore (seat H7) on the BOQA® connection element (see figure 6).

Alternatively, BOQA® fastening elements can be supplied as a version for connection to shaft ends or tapers with a blind bore (seat H7) and a hex socket integrated into the thread.

The hex socket provides additional stability when fastening the nut with a hex key (see figure 7).

as customised versions to meet requirements for specific shaft-to-hub connections.

Due to their great versatility, BOQA® fastening elements are not just used to connect belt pulleys to shafts, they are also the first choice for safely incorporating gears or sprockets to form secure shaft-hub connection, as shown in the figures on the right.