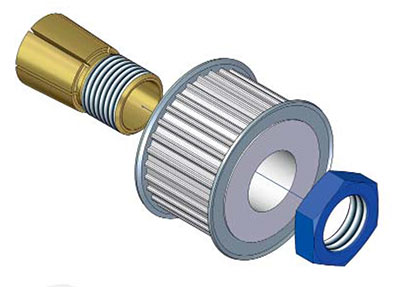 BOQA® fastening elements, also known as 'clamping sleeves' or 'clamping collets', were developed by Georg F. Boda and introduced to the market in 1993.
Georg F. Boda was inspired to work on this project by the fact that expensive drive solutions often failed due to disconnected shaft-hub connections on chain or toothed belt components.
These problems were further increased by developments in the field of linear technology with the advent of more powerful stepper motors which featured faster acceleration, reverse operation, etc..
The rapidly increasing demands of modern drive technology needed to be met with future-oriented, safe, reliable, and easely applicable drive solutions.
BOQA® fastening elements meet requirements with regards to:
reliability: longevity through force-fitted connection
easy handling: no special tools required
precision: elements are machined with a concentricity telerance of 0,01 mm
extremely broad product range: great variety in application options
Today, BOQA® fastening elements are integral parts of drive technology components and meet the highest requirements
BOQA® fastening elements are also constantly improved by bodaTec® GmbH, the company of developer Georg F. Boda. bodaTec® GmbH receives valuable input from its network of distribution partners and international top-class customers. This feedback provides further inspiration to increase the range of applications for BOQA® fastening elements, to adapt them to rapidly changing technical requirements, and to develop new solutions..
BOQA® fastening elements incorporate the classic advantages of shaft-hub connection:
easy assembly
shaft-hub connection without backlash
resistant against extreme load changes
no preparations required at the shaft or hub (milling or broaching of grooves)
flexible positioning on the shaft, both axially and radially
BOQA® fastening elements also provide additional advantages often developed in collaboration with the users:
BOQA® fastening elements...
are normally manufactured using stainless steel. This prevents fretting corrosion and enables effortless disconnection of shaft and hub for maintenance purposes, even after long periods of operation. Maintenance time is reduced.
are self-centring and have a precise concentricity of 1/100 mm. Vibrations are reduced to a minimum, imbalances are prevented and drive components are protected from wear.
are delivered with fitted, fine-threaded hex nuts for fastening. Nuts are made from galvanised steel; nuts made from stainless steel
are available on request for an additional charge. Special nuts are also available.
are available for shaft diameters starting from 1.5 mm. The maximum for shaft diameters actually is 60 mm.
are also available for shaft diameters in standard inch sizes.
are unusually compact, permitting the connection of hubs (belt pulleys, gears, sprockets, etc.) with a relatively small outer diameter (tip diameter) to relatively 'thick' shafts
are supplied with an integrated taper bearing at the thread for counter bearing of small shaft diameters (optionally with an inner ring pressed on for needle bearings). This helps reduce the shaft bending load during tensioning of a toothed belt and prevent downtimes due to material fatigue
are available with integrated hex socket at the thread or at the taper bearing to provide stability when fastening the nut with a hex key (simply add "-ISK" to the order number
can be supplied without a thread for use in special assemblies (more details on request).
are available with an inside thread for use in special assemblies (more details on request).